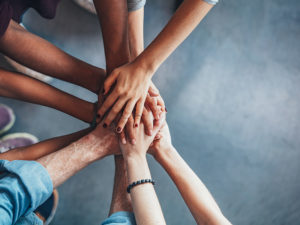 THE ADVANTAGES OF A LADIES TEAM?
A deal is fun, but we provide a long-term relationship!
We are no longer young girls – well, in our heads – the advantage is, we know how to play the game. We understand the account managers should sit at the table with potential customers. They are too expensive and should not waste their time calling. Often they do not even like calling. For us, it's daily business, we love it. We encourage each other and we monitor our efforts. You have continuous insight into the results. And if we have learned one thing, we are a lot more structured than the average salesman.
"WeCallForYou is the only company in the ICT world where only women do the calls."
Why do only women work at WeCallForYou? The ICT world is still a world where men have the upper hand. Tell me … how nice do you think it is to hear a woman's voice? We know, we always have pleasant conversations. And no, we are not ICT specialists, but after over twenty years of experience, we manage perfectly. If too technical questions or specifications are asked, this must be a signal to schedule an appointment. It's that simple. Do you have any idea what you leave behind?
Do you want to leave IT alone?
DO YOU WANT TO EXCEL THIS SUMMER AND RELAX LATER? CALL US ONLY ONE TIME AT 06 55 10 53 01 AND WE WILL CALL (FOR) YOU IN THE FUTURE.