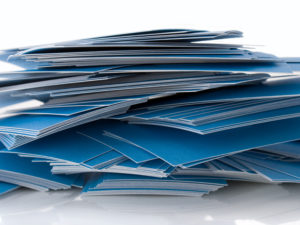 GET RID OF THOSE BUSINESS CARDS
The trade fair is still a frequently used medium for acquiring new contacts and maintaining existing ones. We invest a lot of time and money together. Communication and marketing departments are busy with it and too often they produce less than we want.
Why exhibitions often don't pay off
The cause of disappointing trade fair presentations can lie in many different parts. Every part of an exhibition participation is important. The plan and the concrete objective as first, but also the interpretation of the stand space, the message, the personnel on site and the follow-up. You will not be surprised that it often goes wrong in that last succession. The last day of the fair is often the last day of the exhibition. And that is deadly sin.
Especially detailed management of all interactions and the follow-up after completion are crucial for a successful exhibition. Make sure you call all contacts, provide them with the right information and offer them the opportunity by addressing their question or wish during the fair. And do that quickly. Actually directly.
Do you have the time?
Many salesmen have a few days of trade and a whole bunch of to-do's on Monday. The business cards are placed in the top drawer of the desk and the paperwork piles up. We advise you to claim the week after the exhibition for the follow-up of all leads. Make those calls, send offers and make appointments. It takes more time than you think, but it will deliver. We are happy to take that off your hands.